Amma's detestable masterstroke
Two days. Two deplorable political decisions.
Amidst the ruckus (and the

spray of pepper

!) in the ongoing session of the Indian Parliament, the ruling Congress, on Tuesday, managed to pass the contentious Telangana Bill at last. It is widely believed that the party's motive in doing so was to appease the natives of Telangana and in turn, win their votes for the region's 17 parliamentary seats. A day after this Bill, dubbed as the '

murder

' of the world's largest democracy, was passed, Tamil Nadu Chief Minister J Jayalalithaa bombarded us with yet another shocker.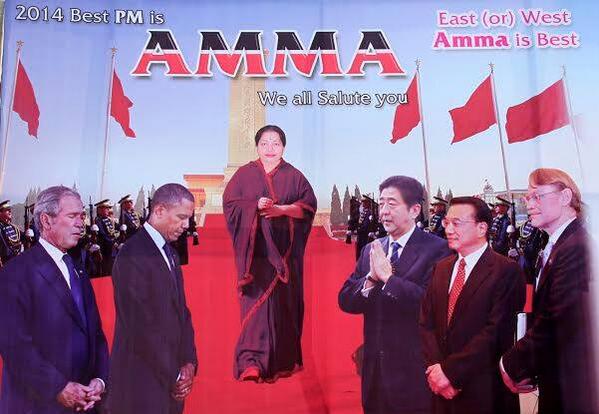 A Photoshopped poster showing world leaders bowing down to Jayalalithaa
Check out more of these hilarious hoardings on IBN Live!
The move:
Wednesday, February 19: A day after the Supreme Court of India commuted the death penalties of the 7 killers of slain Prime Minister Rajiv Gandhi to life terms, Jayalalithaa (fawningly referred to as 'Amma'), sprung up a surprise by announcing that her Government had decided to let them walk free. She gave the Centre three days' time to respond to her decision, after which she said her government would exercise its powers of remission.
The strategy:
After having taken freebie distribution to a new high (Free rice, fans, mixers, grinders and even laptops and gold!), Jaya's overall performance as Chief Minister has been widely perceived to be impressive. Her strengthened position in the state now seems like the perfect base for her to harbour her rumoured Prime Ministerial ambitions. I too am of the opinion that a major decision like this, made only 2 months before the Lok Sabha polls, might have been targeted to let Tamils perceive her to be their 'sole protector' in order to polarize votes in her favour.
Note that this move is also a direct U-turn in the stance of the Chief Minister who was once so vocal against the LTTE and their killings that they even had her on their hit list.
To add to all this, Jaya's move has put her arch rival, M Karunanidhi, head of the DMK, in a fix. The last thing he would now want would be to look like a power hungry man who cares about his party's rapprochement with the Congress more than the cause of his "helpless fellow Tamils". For similar reasons, smaller Tamil parties might also be left with no choice but to go against the Congress, thereby nullifying the possibility of them allying with the party. With no influence being used against her within the state and the whole of Tamil Nadu standing united in supporting her decision, Jaya's reputation only gets better as she rides on the powerful 'Tamils vs Centre' sentiment.
The target:
Tamil Nadu has 39 seats in the Lok Sabha. A

Times Now – CVoter survey

conducted last week had predicted 27 seats for Jaya's party, the AIADMK, in the upcoming elections. A strong emotional wave like this would probably make her get as close to the 39 as possible. With such a high number, Jaya would be able to join the upcoming ruling government's coalition and use her position as leverage to meet her personal demands. In an unlikely but yet possible scenario, it could even make her the Prime Minister.
A masterstroke, albeit a detestable one. Wouldn't a move like this set a wrong precedent for other state governments to exercise their powers in a politically motivated manner? A Prime Minister was killed and his assassins are allowed to walk free! If the country cannot provide justice to its own Prime Minister, how could we, its citizens possibly have any sort of faith in its system? It really saddens me to see the lengths to which our lawmakers would go to win our votes. Now how do we stop this from happening? We see through their populist strategies, let more people know about their hidden motives and make politicians realize that our sentiments can no longer be used for their votes.
SoSpeakUpNow!

and make the difference!
View the other posts of this blog here